Restaurant El Che Gaucho Argentine Grill Welcomes You!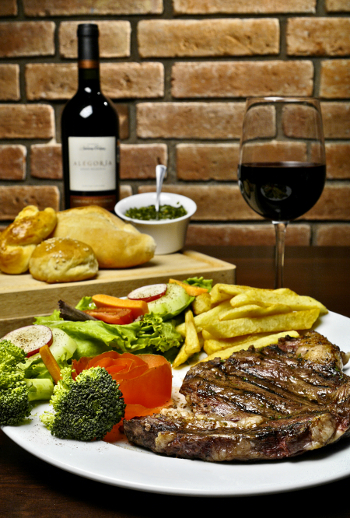 And welcoming it is. El Che Gaucho Restaurant has changed! We have a new, large, beautiful and comfortable restaurant where we still serve the best Argentine beef in Oaxaca. But beef is not all we do, you must try El Che Gaucho's new restaurant and the rest of our delectable food. We make our own fresh pasta for lasagna and cannelones here at Che Gaucho and all of our bread is fresh baked right here. We have a separate full bar area, richly appointed and a very nice place to sit and have a drink. We are now located in Colonial Reforma, just an 8 minute taxi ride from downtown Oaxaca, but where the ambiance is quiet and there is ample street parking, in addition to our valet parking.
Nothing tastes better than quality beef grilled on an open fire. We at El Che Gaucho know how to cook and serve our special Argentine beef. The owners are Argentines and have owned El Che Gaucho Grill in Oaxaca for 30 years. What we have added to your dining experience is our new, lushly appointed restaurant in Colonia Reforma. All of our years of experience have culminated in this beautiful, large, but cozy new restaurant. The owner, and his family will attend to your every need as you dine on a large cut of Argentine beef, just as you like it. After your fine meal, settle in to a home baked dessert of streudel or one of our other fine pastries made daily.

Highest quality Argentine beef cooked over open fire. El Che Gaucho offers its diners:
Smoking Areas and Non Smoking Areas
Terrace with gardens
Separate Bar Area with TV
A private and cozy place
Valet parking or plenty of nearby street parking
Homemade pasta in lasagna & cannelones
Fresh baked bread daily
Fresh, safe, hygenically prepared salads & vegies
Homemade streudel & desserts
Extensive wine list & full bar
So while you are visiting Oaxaca, or if you live here, please be sure to make El Che Gaucho Restaurant one of your regular stops. Avoid the traffic and crowds downtown and come to Colonia Reforma for an excellent meal.